Shea butter is a fantastic complement to your skin care routine, as you very well know. Shea butter is a common component in many skincare products because of its very buttery feel, which also offers several anti-inflammatory and anti-aging benefits for the skin.
Shea butter benefits your skin, as is well known, but did you also know that it also greatly benefits natural hair? Yes, you read that right! In this blog, we will take an in depth look at shea butter for natural hair – the benefits, the uses, basically, all of it! Read on!
What is Natural Hair?
There is no one size fits all when it comes to the texture and growth patterns of natural Black hair, but on average, natural Black hair tends to vary from wavy to kinky-coily, with a lot of variance between the two.
In actuality, texture variations may be found on the same head of hair as well as within families, even between brothers. Typically, Black hair types include:
Very dry to the touch
Very hard to over-condition
Fragile
Natural hair might appear robust, but it has a very fragile nature and must be treated with care. To ensure maximum health, this entails periodic conditioning and moisturising and as little direct heat as possible.
Why Use Shea Butter For Natural Hair?
Shea Butter can act as a sealant. A sealant is a substance that covers the hair shaft's cuticles. Moisture within the hair strand cannot get through the sealant because it surrounds the hair strands and forms a barrier around the cuticles. The sealant also prevents any moisture from entering the hair strand, just as it prevents moisture from evaporating from the hair.
Benefits Of Shea Butter For Natural Hair
Now that we are clear about what natural hair is and why shea butter is good for it, let us now look at the benefits of shea butter for natural black hair.
1. Protection From Uv Damage
Your hair follicles become damaged and generate dry, damaged hair when they are exposed to the sun too frequently. A little amount of SPF is present in shea butter, acting as a shield against the sun's UV radiation.
2. Relieves Irritation
Shea butter offers rich fats that may be absorbed into the scalp without leaving a greasy feeling or clogging pores, as well as anti-inflammatory properties. This is why it helps to relieve dandruff or a dry, itchy scalp. Shea butter does wonders to moisturise dry or brittle hair.
3. Protection From Heat Damage
Shea butter can prevent your hair from heat damage if you straighten, curl, or heat style it in any way. This is because Shea butter permeates into each hair strand and protects against heat damage rather than sitting heavy on the hair.
4. Hydration
Shea butter is said to give hair hydration and lustre because it contains important fatty acids and vitamins A and E. It works well as a hair moisturiser because it is non-greasy. It also mends split, damaged ends and softens dry, brittle hair.
5. Seals Moisture
Shea butter is a great sealer for the hair because of its emollient properties, especially for Afro-textured hair, which is often drier than other hair types. It gives the hair hydration and then locks that moisture in without making the hair oily. Because of its sealing ability, your hair will remain hydrated in all conditions.
How To Use Shea Butter For Natural Hair?
Shea butter is very simple to use on hair. Read on to find out how you can make use of this super nourishing ingredient to keep your natural hair in good health.
Raw Shea Butter For Natural Hair
Raw shea butter ought to be a staple in your cosmetic collection if you value healthy, moisturised hair (and who doesn't?). Dry, natural hair may be transformed into smooth and silky using this supercharged natural substance.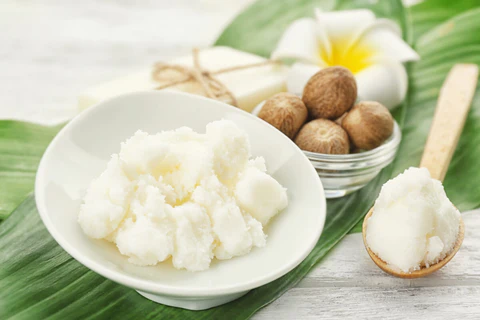 Ingredient
How to Make And Use
Mix both ingredients together in a mixing bowl.
Apply to the hair and edges, then gently massage the scalp.
This can be applied before styling your hair or as your morning or night time routine.
DIY Recipe Of Olive Oil And Shea Butter For Natural Hair Growth
Olive oil has emollient qualities that help hydrate hair, according to studies, and banana is a common ingredient in hair conditioners. Your hair may be nourished and made softer by the combination of these components.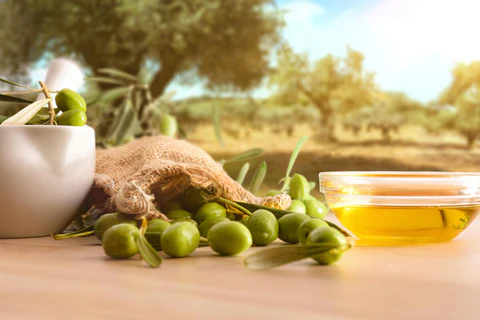 Ingredient
Banana – 1 Ripe
Virgin Olive Oil – 1 Tablespoons
Shea Butter – ½ Tablespoons
Coconut Oil – 1 Tablespoons