This is for all you girls with curly hair – let's talk about natural oils! Our hair needs natural oils from our scalp to be hydrated and healthy. But sometimes, these oils don't make it down to our hair tips. That explains why our ends are dry and frizzy and our scalps sometimes need a good cleaning.
We have a few remedies for this, but adding Jojoba Oil as natural carrier oil back into hair is one of the best and simplest. Curly hair and jojoba oil go together like bread and butter. In this blog, we will talk more about jojoba oil for curly hair.
Is Golden Jojoba Oil Good For Curly Hair?
Jojoba oil serves as a sealant, protecting the moisture in your hair that is already there. Jojoba oil should be used with another product that deeply hydrates the hair. Jojoba oil is a fantastic treatment for curly hair, particularly since it retains moisture.
Curly hair has the drawback of being more prone to breaking than straight hair. Therefore you need to be extra cautious when hydrating it. Jojoba oil helps with this.
Jojoba Oil Benefits For Curly Hair
The substance produced in the jojoba plant's seed is known as jojoba oil. It has important nutrients, including vitamins E and B, which helps to moisturize hair adequately. Jojoba oil provides several advantages for both straight and curly hair types but has additional advantages for individuals with curly hair.
Hydrates & Repairs Damage: Jojoba oil is a good source of monounsaturated fatty acids, may penetrate the hair fibers more effectively thanks to their compact form and protection. Aid in sealing moisture into your hair, maintaining the hydration of your curls, and defining them. Because of how efficiently they function, even damaged and dryness brought on by chemicals, and heat may be repaired.
Treats Dandruff: Jojoba oil not only improves your hair's appearance and feel but also treats and prevents dandruff. It does this since it has moisturizing and anti-fungal qualities. Because jojoba oil is an emollient, it quickly enters the skin and retains moisture. When your scalp is adequately moisturized, you are less likely to suffer itching or acquire dandruff.
Protects Color Treated Hair: Jojoba oil's fatty acids are excellent for moisturizing and protecting the hair. They form a barrier on the hair's exterior, which is why they protect it so well. It is, therefore, ideal for use on colored hair. Your hair may be damaged by the strong chemicals used in hair coloring. Your hair will be shielded against this harm and the early fading of the color thanks to jojoba oil.
How To Use Jojoba Oil For Wavy Hair?
Jojoba oil has been utilized for its therapeutic powers for hundreds of years. However, these qualities don't simply apply to the skin; they also perform incredibly well on curly hair. You must be wondering how to use jojoba oil for your hair now that you know how healthy it is for your hair. In the following sections, we will show you how to use this oil for your hair.
Recipe 1: Jojoba Oil To Nourish Your Scalp
Try using jojoba oil directly on your scalp for little extra nourishment if your hair and scalp are dry. If you struggle with dandruff, this method is very beneficial. We suggest doing this two or three times each week.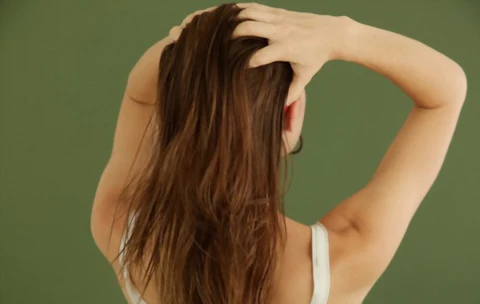 Ingredients List:
Method:
Step 1: Take the palm of your hand and pour a few drops of jojoba oil.
Step 2: Use your fingertips and gently comb the oil into your scalp.
Step 3: Give the oil around 30 minutes to absorb into your scalp.
Step 4: Use shampoo to wash your hair as normal.
Recipe 2: Jojoba Oil As Hot Oil Treatment
In addition to feeling nicer on your scalp, heated oil provides extra advantages over unheated oil. For this one, a word of warning: hot oil may be quite harmful. Do not overheat it or you risk burning yourself. Test a single drop on the inside of your wrist to prevent this. Your scalp will also get excessively heated if your wrist becomes uncomfortable.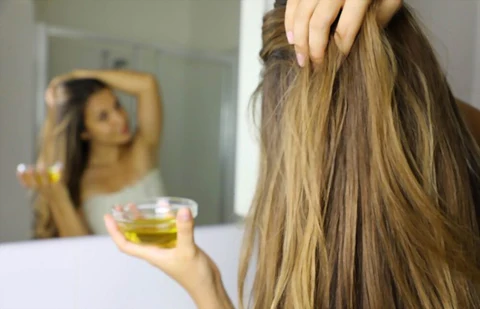 Ingredients List:
Golden Jojoba Oil – 20 Drops
Method:
Step 1: Once the temperature is right, massage a few drops of oil into your hair and scalp.
Step 2: Use a towel or shower cap and wrap it around your head.
Step 3: Give the treatment around 30 minutes to sink into your hair.
Step 4: Wash your hair as usual with a gentle shampoo.
Recipe 3: Jojoba Oil To Your Shampoo & Conditioner
If you want something other than jojoba oil in your hair, we have something for you too. A few drops can be added to your preferred product. This is the simplest course of action. Your hair will receive deep shaft hydration, making your curls bouncy and full of life.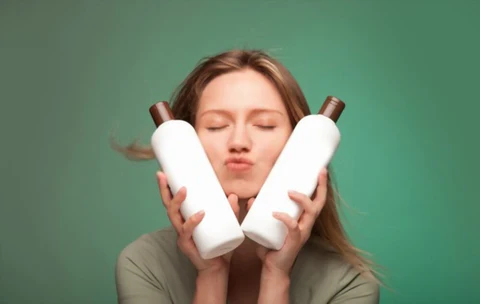 Ingredients List:
Golden Jojoba Oil – 6 Drops
Your usual shampoo and conditioner
Method:
Step 1: Put a small amount of conditioner or shampoo in your hand.
Step 2: 5–6 drops of jojoba oil should be added to it. Mix thoroughly.
Step 3: Go on as per usual with your shampoo and conditioner routine.